Keene High School - Keene, New Hampshire


Class of 1971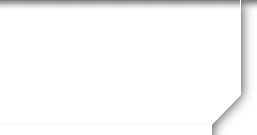 KHS '71 Murphy Scholarship
The establishment of the KHS Class of '71 Scholarship:
At our 40th Reunion, we discussed forming a scholarship, to be awarded to a deserving senior at Keene High School. In order to fund the scholarship, as well as to help build a fund to help subsidize future reunions, memorial donations, etc., we established an annual dues structure of $20 per classmate. (Note: this has subsequently been changed to a donation to the class in any amount.)
Recognizing that we needed to establish a Scholarship Committee, we asked our classmates to let us know if they were interested in serving on it.
Our Scholarship Committee is currently comprised of Wendy Olmstead Worley, Susan Hildreth Silver, and Tom Cross.
The Committee immediately set to work establishing the criteria that a student would need to meet in order to earn the scholarship.
Our Committee contacts Keene High School to receive the applications.
After careful consideration of the applicants, our Committee selects the recipient. We are proud of the following recipients of our Scholarship!!!
2020
Her name is Ashleigh Marshall. She is going to the University of NE to study Nursing and hopes to become a doctor some day. She had some "curveballs" , as she puts it, in her life. Her parents have had some serious health issues. Her father had several brain surgeries and needed to be taught how to walk again. It was during this time, she discovered her passion for nursing and wanting to help others "in a hands on way." She is graduating with a 3.975 GPA and is 27th in her class. She was able to earn her LNA with the Cheshire Career Centers Health Sciences program. She worked at the NH Teen Institute, which educates young minds on the dangers of drug and alcohol abuse, continued with her extra curricular activities at school and was involved in community service. All of this while dealing with her parents health issues and having to take more responsibility in her family.
We believe Roger would be proud of Ashleigh and happy we are awarding her with this scholarship.
She actually has a twin sister who applied for the scholarship also. There are 4 children in her family along with a Mom and Dad. One other sibling is in college also.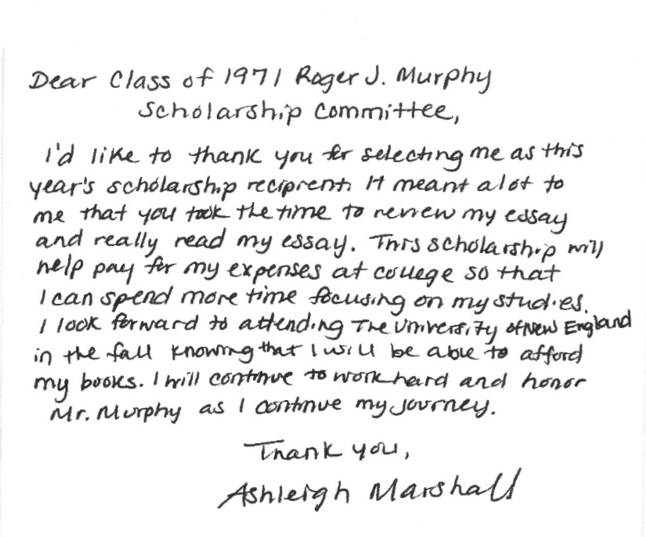 2019
It is with great pleasure we announce the name of the KHS Roger J. Murphy Scholarship for 2019. His name is Kyle Trombley. He was shown to exemplify all of the traits we look for when deciding who is worthy of this scholarship; grade point average of a B or better, extracurricular activities in school and the community, outstanding academic and character references, and those traits which Roger possessed, hard work and striving for excellence. I know Roger would have been pleased with our choice.
Kyle will be attending Keene State College in the Fall where he has received the KSC Dean's Scholarship. He will be pursuing a career in Computer Science along with studies in Music and French. Some of his activities in and outside of school were KHS Drama Club, MOCO Arts, Keene Lions Club, KHS Talent Show accompanist, freelancing vocalist and pianist, Keene Middle School Choral conductor, Sydney Australia Opera House, and vocalist at Carnegie Hall to name a few. His references described him as growing in maturity throughout his four years at KHS and his voice and laughter filling the room. Kyle will describe his experiences in traveling and music as some of the most humbling experiences thus far in his life.
Our class would not be able to award these scholarships without the financial help from all of our classmates and Roger Murphy. Thank you. Please do not disregard donating to this scholarship. Many of us are retired and have done very well in our lives to be able to donate to this worthy cause. The money also keeps the cost of our reunions lower as prices continue to increase.
Thank you for your continued support.
Fondly,
The Scholarship Committee: Wendy Olmstead Worley, Susan Hildreth Silver, and Thomas Cross
Note: This is a letter I received from our scholarship recipient.
Good Evening, Wendy!
I am in receipt of the KHS Class of 1971 Roger J. Murphy Scholarship, and I first would like to thank you, along with the committee, for selecting me for this scholarship! I am truly honored. Thank you.
I can provide the Financial Aid Department information for Keene State College tonight, and I can get the acceptance letter to you tomorrow:
Attn: Kathleen Rafferty
Financial Aid Office
Keene State College
229 Main Street
Keene, NH 03435
Thanks so much again!
Best Wishes,
Kyle R. Trombley
Keene High School Student
Vocalist/Pianist/Collaborative Pianist
Private Piano Instructor
2018
The recipient of our 2018 Scholarship is Jax (Jacqueline) Perry. Jax is attending Connecticut College. She plans to study Neuroscience and Studio Arts. After 11 years of dance, Jax had 5 surgeries to repair her ankles from the damage this caused. Due to these surgeries she had to miss a great deal of school in her freshman and sophomore years. Despite this, her grades did not suffer and she was in many AP classes. To manage her pain and channel her creative side, Jax moved her focus to art. She excelled here also and has received numerous awards.
2017
The scholarship committee is so delighted to let everyone know who we chose for our Roger Murphy Class of 1971 KHS Scholarship for the 2017-2018 college year. Since Roger's donation to our class scholarship fund was very generous, we decided it was only fitting to name the scholarship in his name for the years to come.
Emma Priebe exhibited all of the qualities of an all around student, the qualities we look for to receive our scholarship. She was ranked 41 amongst her peers in her graduating class, she was involved in extra curricular activities while working as a babysitter, waitress, and ward aid. She enrolled in a two-year program offered through the Chesire Career Center at KHS to pursue earning her LNA. She is an avid equestrian and involved in 4-H. She was a Big Sister with Big Brothers and Big Sisters. She is contributing to her college fund by saving the money she earned while working. She was accepted to Colby Sawyer College where she will pursue a nursing degree. Roger Murphy's mother and nephew were present at the awards evening at KHS to see Emma receive the scholarship which Roger's nephew, Gordon Daniels, presented to Emma. Congratulations to Emma for all of her past and future successes in attaining her hearts' desires and goals.
December 2016 Notation - In October 2016, KHS '71 received a $2,500 donation from classmate Roger Murphy for the purpose of funding the scholarship for the next five awards. Because of his generosity, we have renamed our scholarship the Keene High School Class of 1971 Roger J. Murphy Memorial Scholarship and it will remain that way until after the 2021 scholarship has been awarded to the deserving KHS senior. Sadly, Roger passed away on November 30, 2016.
2016
Our 5th scholarship went to Elizabeth Best. She had a very rough road her first year at KHS, but pulled up her grades in spite of much turmoil in her life. She decided to make a difference in her life even though those who were supposed to support to her were not. Tom Cross saw a diamond in the rough and pushed the committee to choose her over two other equally stellar candidates. Elizabeth is going to Westfield State University and is studying to be a teacher. Please keep her in your thoughts and prayers as she heals from one more hurdle in her life, a neck injury while cheering. Thank you to all who have donated in order to continue this scholarship every year. We have had donations large and small. All of them made a huge difference in the lives of those students we have chosen and will continue to choose.
2015
Susan Hildreth Silver, Tom Cross, and Wendy Olmstead Worley chose our 4th candidate for our KHS Class of 1971 scholarship. Susan gave out the scholarship for $500 at the KHS awards ceremony on June 10, 2015. The recipient was Kayla Truman. Kayla met all of the criteria: B average student, engaged in extracurricular activities, a young lady of good character, a great essay, and she was involved in community service. She was at work every morning at 6:45am opening the infant and toddler room at KHS, worked every day after school at the YMCA Learning Center as an assistant preschool teacher and worked at a local grocery store. She received stellar references from the early childhood teacher at KHS, the director of the Learning Center, and her school counselor at KHS. Some of the comments to describe Kayla were patient, caring, respectful, a positive role model, great work ethics, always ready to learn, a hard worker, and a natural leader.
Kayla will be attending River Valley Community College to pursue an Associates degree in Early Childhood education. Her ultimate goal is to own and operate her own preschool.
2014
Tim Carbone presented our third annual KHS Class of '71 Scholarship award to Mackenzie Tucker from Keene. She is ranked 15 in her graduating class, played varsity basketball, lacrosse, volleyball, and bowling. She volunteers at her church and in the community, works, and maintains friendships. She was stricken with a debilitating disease in 5th grade called Perthis Disease. She was on crutches all through middle school. As a freshman in high school, she was able to get rid of her crutches and she took off running. Much to her parents' hesitation, Mackenzie played sports and excelled in many. She has also had perfect attendance for the last 6 years of school. She graduated with a LNA license due to all of the necessary health courses she has taken. Her college aspiration is to become a radiologic technician. She has been accepted to Quinnipiac University, NH Technological Institute, and Massachusetts College of Pharmacy and Health Sciences University, where she has received generous scholarships. At the time of her application, she had not decided on which college to attend. Please say a prayer for Mackenzie for safety, stamina, and drive to continue on her path to success.
2013
On June 17, 2013, Tim Carbone presented our second annual KHS Class of '71 Scholarship to Hanah Conlan from Keene. Hanah will be the first one in her family to attend college. Her goal is to become a pediatric psychologist. She will attend West Virginia University beginning in the Fall of 2013. Congratulations to Hanah for her hard work in school, sports, and her community!
2012
On June 13, 2012, Tim Carbone presented Jacob Blake with the 2012 KHS Class of '71 Scholarship.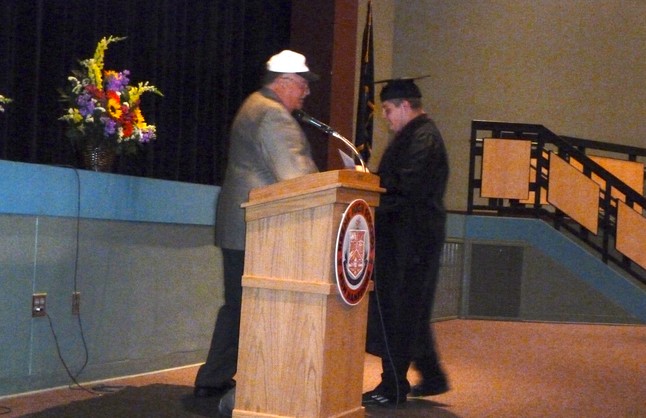 We received the following thank you letter from Keene High School. And, you can read about Jacob's story below.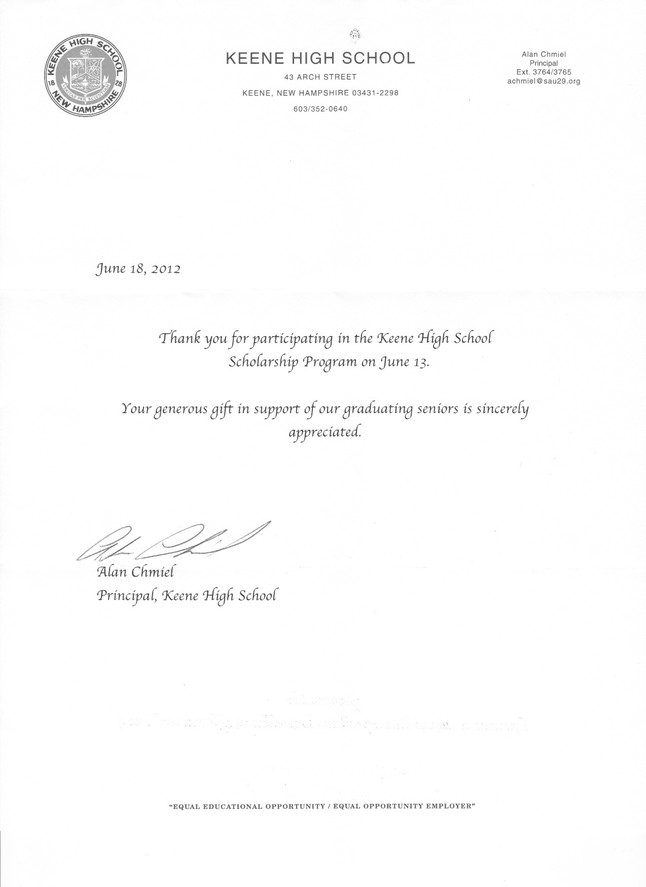 Here is Jacob's story - as presented on May 22, 2012 from Wendy Worley in Message Forum:
"The scholarship committee has picked its first recipient for the Class of 1971 scholarship. His name is Jacob Blake.
Jacob is attending SUNY Cobleskill in the Fall. His plan of study is to become a Dairy Farmer. He will get his associates degree and then switch in to a bachelor's program to attain his degree in Animal Science, His Mom passed away last Fall. With going through such a tragedy for a young man, Jacob has attained a 3.1 GPA, volunteered in his community, won the National Achievement Award for the past two years through 4H, worked at several fairs and Applewood nursing home, works over 80 hours on a local farm, and is 4H Club president for 3 years and treasurer for 1 year. While in Future Farmers of America, Jacob placed first at the state dairy showmanship competition at UNH and was rewarded by being chosen to compete at the national level in Indiana. Due to his Mom passing away, he could not push himself to go. He also has financial need. He will be paying for his college with a Pell Grant and working this summer and during college.
Jacob has had a difficult Senior year with the passing of his Mom and the fact "she will not see him graduate or go on to college." If anyone can attend the awards ceremony, it would be great support for Jacob to let him know how proud we are of him.
Jacob will be receiving $500.00 from our class. It would be great if we could give him more, but at this point it is all we have to give and still have a buffer in our account. Please send in your dues so we are able to keep this scholarship going from year to year. If anyone would like to donate more than the yearly dues, we would welcome it with open hand."